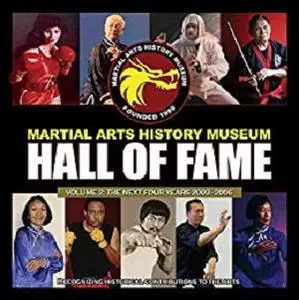 Martial Arts History Museum Hall of Fame Volume 2: Covering the years 2003 - 2006. An official recognition of the martial arts pioneers and leaders by Michael Matsuda
English | January 10, 2019 | ASIN: B07M7Q1J4K | 303 pages | PDF | 155 MB
Volume 2 covers the years 2003-2006. Recognized by the Martial Arts History Museum, this book features 44 individuals who made an impact on history. This is their story. Six pages are dedicated to feature each member of the Hall of Fame. This volume includes: 2003 - Billy Blanks, Howard Jackson, Kathy Long, Gerald Okamura, Cecil Peoples, Chan Pui, Lilly Rodriguez, Bill Ryusaki, Donnie Williams, Doc Fai Wong and Funakoshi Award to Art Camacho. 2004 - Sonny Chiba, Joe Corley, Stephen Hayes, Sho Kosugi, Michael Matsuda, Hidy Ochiai, Steven Seagal, Kou Sze, Arnold Urquidez, Byong Yu and Funakoshi Award to John Corcoran. 2005 - Graciela Casillas, S. Henry Cho, Michael DePasquale Sr., Jim Harrison, Ted Lucaylucay, Chuck Merriman, Carrie Ogawa-Wong, Blinky Rodriguez, Steve Sanders (Muhammed), Allen Steen and Funakoshi Award to Joe Hyams. 2006 - Cacoy Canete, Leo Fong, Wally Jay, Buck Sam Kong, Brendan Lai, Lily Lau, Miyamoto Musashi, Toshishiro Obata, Ark Yuey Wong, Wen Mei Yu and Funakoshi Award to Fariborz Azhakh.