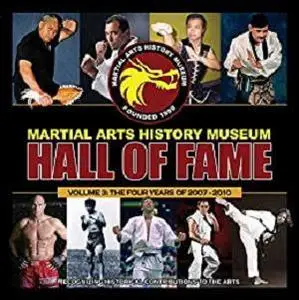 Martial Arts History Museum Hall of Fame Volume 3: Covering the years 2007 - 2010 by Michael Matsuda
English | January 9, 2019 | ASIN: B07MFZ1QXL | 303 pages | PDF | 124 MB
Volume 3 covers the years 2007-2010. Recognized by the Martial Arts History Museum as the "Official Hall of Fame for the martial arts," this book features 44 individuals who made an impact on history. Six pages are dedicated to feature each member of the Hall of Fame. This volume includes 2007 - Emilo Bruno, Yong Sul Choi, Sol Kaihewalu, Shintaro Katsu, Ben Largusa, Arlene Limas, Richard Reed, Mike Swain, Akebono Taro, Senator Richard Alarcon. 2008 - Anthony Chan, Jeff Chan, General Hong Hi Choi, Randy Couture, Linda Denley, Mike Dillard, Maki Mayahara, Hidetaka Nishiyama, Lucia Rijker, Tau Mau Wong, Rafael Kosche. 2009, Angel Cabalas, Rorion Gracie, Joseph Jennings, Taiho Koki, Cung Le, Bow Sim Mark, Bruce Tegner, Karyn Turner, Bruce Tegner, Angi Uezu, Dana White, Akira Kurosawa. 2010 - Jim Arvanitis, William K.S. Chow, Paul DeThouars, Andrew Freund, Dana Hee, John McCarth, Tarao Mori, Remy Presas, Chai Sirisute, Hayashizaki Shigenobu, Ed Parker Jr.