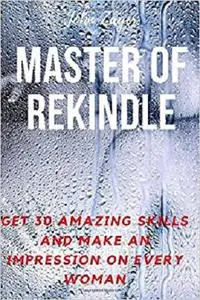 Master Of Rekindle: Get 30 Amazing Skills And Make An Impression On Every Woman (Sex) by John Zager
English | March 31, 2020 | ISBN: N/A | ASIN: B086MFDLRD | 42 pages | PDF | 0.44 Mb
This book describes 30 unique skills that can help you become not only a much better lover but also a great partner and friend.
I realize that some of these methods may be incomprehensible to you, so I ask you not to assume that what I am writing is not true. Instead of judging too hastily, run curiosity to check this material in your life.
The skills I will tell you about are related to your way of thinking, your approach to sex, and your view of human relationships.
From this material you will not only learn how to build the foundation of an ideal lover who will make you king every night, but you will also learn a lot of interesting strategies and ideas to enrich your relationship with a woman with unforgettable moments.

From this book you will find out:
The ability to communicate
The ability to get to know people easily
The ability to awaken female potential
The ability to create hot nights
The ability to be a friend
The ability to discover intimate secrets
The ability to prevent "bed" problems
The ability to discover a woman
The ability to enjoy every minute spent with a woman
The ability to be attractive
The ability to open up a woman to new experiences
The ability to spend time effectively with the woman
The ability to prevent routine and monotony
And many others
Feel Free to contact me for book requests, informations or feedbacks.
Without You And Your Support We Can't Continue
Thanks For Buying Premium From My Links For Support