Maya Studio Projects: Dynamics with DVD | 1.4 Gb
In the world of animation, the ability to create realistic water, wind, and fire effects is key. Autodesk Maya software includes powerful dynamics tools that have been used to design breathtaking effects for movies, games, commercials, and short films. This professional guide teaches you the primary techniques you need to make the most of Maya's toolkit, so you'll soon be creating water that ripples, gusting winds and gentle breezes, and flickering fires the way Hollywood pros do.
About the Author
Todd Palamar began his career creating traditional special effects for low-budget horror movies and quickly gravitated to computer animation. After working on numerous straight-to-video movies, he switched gears and entered the video game industry. Todd has extensive freelance experience, including dozens of military and game-style simulations, corporate commercials, and theme park rides. In addition, he has written several Maya books.
Overview
The one-of-a-kind book is completely project-based. Learn the intricacies of Maya's Dynamics tools and continue to build your skills with projects that increase in complexity. A DVD is included with additional video training.
- Maya is the industry-leading 3D animation and effects software; Maya dynamics tools create water and other fluids, wind, fire, fur, particles, and more
- Build professional skills in Maya Dynamics with this project-based guide
- Put your skills to work by completing a series of projects on water, wind, and fire effects
- A DVD included with the book provides additional video training
Maya Studio Projects: Dynamics is one of a new series of books designed to teach animators and designers fresh skills through project-based instruction.
What You'll Find on the DVD
You will find all the files for completing the tutorials and understanding concepts in this book in the Chapter Files directory on the DVD. You can access the incrementally saved Maya scene files, all of the figures shown in the book, and the incrementally created movies of each project.
Each chapter directory is divided into subdirectories so you can easily find the files. Figures from the book are located in the Figures directory, QuickTime movies in the Movies directory, and so on. Note that the content for each chapter varies, so some chapters will have more materials than others.
All of the Maya scene files are called out in the text of the book. Use these to confirm your settings or test new ideas. The figures are useful to scrutinize detail that doesn't show up in print. Some can also be used for reference, to match color and shapes.
We discourage you from working with Maya project files directly from the DVD. Maya scenes link to external files such as texture maps and dynamic caches, so it's better to copy the files to your local drive, including any empty folders, to ensure that the example scenes function properly. Remember that you must set the project directory in Maya in order for the external files to be read properly.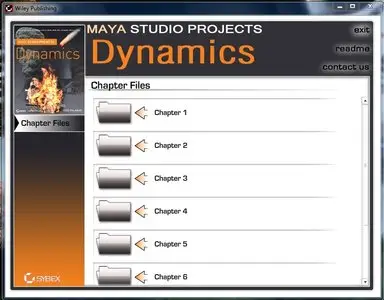 visit my blog
Name:
Maya Studio Projects Dynamics
Version:
with DVD
Creator:
http://eu.wiley.com/
Interface:
english
OS:
Windows XP / Vista / Seven
Size:
1.4 Gb
All parts on filepost.com, fileserve.com, filesonic.com interchanged. It is added by 5% of the overall size of the archive of information for the restoration

No mirrors please