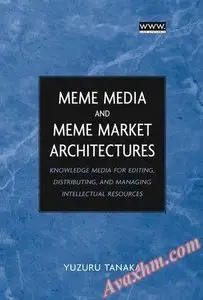 Meme Media and Meme Market Architectures: Knowledge Media for Editing, Distributing, and Managing Intellectual Resources
Wiley-IEEE Press; 1 edition | ISBN: 0471453781 | 497 pages | PDF | July 10, 2003 | English | 10 Mb
This book provides an integrated view of the five kinds of enabling technologies in terms of knowledge media architectures: multimedia and hypermedia, object-oriented GUI and visual programming, reusable component software and component integration, network publishing and electronic commerce, and object-oriented and multimedia databases. Among many books on multimedia and hypermedia, few address knowledge. Of those that do, none focus on media for the editing, distribution, and management of knowledge the way this book does. It is written based on the hypothesis that knowledge media work as genes, with their network publishing repository, working as a gene pool to accelerate the evolution of knowledge shared in our societies.