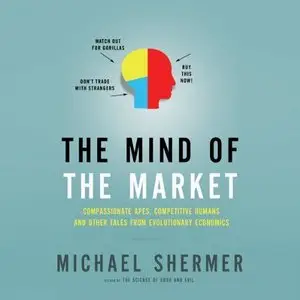 The Mind of the Market: Compassionate Apes, Competitive Humans and Other Tales from Evolutionary Economics By Michael Shermer
Publisher: Michael Shermer John Wagner Studios 2008 | 5 hours and 26 mins | ISBN: n/a | MP3 | 194 MB
How did we evolve from ancient hunter-gatherers to modern consumer-traders? Why are people so emotional and irrational when it comes to money and business decisions? Best-selling author Michael Shermer believes that evolution and evolutionary psychology provides an answer to both of these questions through the new science of evolutionary economics. Drawing on research from neuroeconomics, Shermer explores what brain scans reveal about bargaining, snap purchases, and how trust is established in business. Utilizing experiments in behavioral economics, Shermer shows why people hang on to losing stocks and failing companies, why business negotiations often disintegrate into emotional tit-for-tat disputes, and why money does not make us happy. Employing research from complexity theory, Shermer shows how evolution and economics are both examples of a larger and still somewhat mysterious phenomenon of emergence, where one plus one equals three. The Mind of the Market will change the way we think about the economics of everyday life.
!!!No Mirrors below, please! Follow Rules!