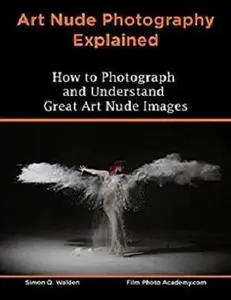 NEW: Art Nude Photography Explained: How to Photograph and Understand Great Art Nude Images: Your guide to viewing and creating modern art nude images by Simon Walden
English | June 8, 2015 | ISBN: N/A | ASIN: B00Z8J5KVC | 154 pages | PDF | 5.55 Mb
Art Nude Photography Explained
How to Photograph and Understand Great Art Nude Images
Are you a photographer or a viewer of art nude photography?
I want to show you how to create art nude images and how to read and evaluate art nude photographs.
The photographs in the book I have taken over a period of time and I have selected them to show powerful techniques for creating amazing photographs.
My photographic methods are simple and are very easy to duplicate in your own work.
I will teach you how to evaluate an image. You will be able to look at a photograph and assess its qualities. You will be able to see why some images work well and others lack impact.
You will learn about the thinking behind images; how to read the image and techniques you can use in your own photography.
This book contains 70 colour and black and white images - each image fully described and high resolution.
About the author:
Simon Q. Walden is an award winning photographer, presenter and author. His books have been bestsellers on Amazon. He regular teaches students all round the world including for the Royal Photographic Society. He runs a commercial studio in Cheltenham, England