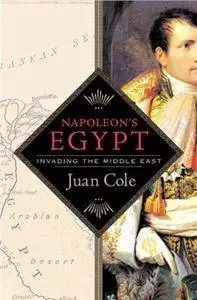 Juan Cole - Napoleon's Egypt: Invading the Middle East
Palgrave Macmillan | 2007 | ISBN: 1403964319 | English | 294 pages | PDF | 2.84 MB
In this vivid and timely history, Juan Cole tells the story of Napoleon's invasion of Egypt. Revealing the young general's reasons for leading the expedition against Egypt in 1798 and showcasing his fascinating views of the Orient, Cole delves into the psychology of the military titan and his entourage. He paints a multi-faceted portrait of the daily travails of the soldiers in Napoleon's army, including how they imagined Egypt, how their expectations differed from what they found, and how they grappled with military challenges in a foreign land. Cole ultimately reveals how Napoleon's invasion, the first modern attempt to invade the Arab world, invented and crystallized the rhetoric of liberal imperialism.