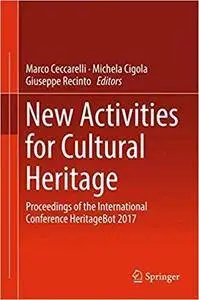 New Activities For Cultural Heritage: Proceedings of the International Conference Heritagebot 2017 by Marco Ceccarelli, Michela Cigola, Giuseppe Recinto
English | 2017 | ISBN: 3319670255 | 248 Pages | PDF | 182.0 MB
This is the Proceedings of the International Workshop Heritagebot 2017 that was held in Cassino, Italy in September 2017. The papers cover a wide range of disciplines connected with Cultural Heritage, from humanistic fields up to engineering designs through legal aspects and financial/economical studies, treating aspects of theory, design, practice and applications.
Topics addressed during the conference were: business models and business planning; creative cities and industries; documentation, analysis and survey of cultural heritage; economics of cultural heritage; cultural heritage, business and organizational models; cultural heritage and collaborative digital systems; citizen science for cultural heritage: service robotics for cultural heritage; legal tools for the development and innovation management in cultural heritage; capital budgeting and capital structure of cultural heritage sector; field applications in cultural heritage.