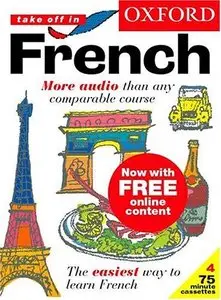 Oxford Take Off in French
Audio CDs: English / French: MP3, 128 Kbps (2 channels) | Duration: 04:32:16 | ISBN-10: 0199534330
PDF Book
Overal size: 293 MB | Genre: Learning French | Level: Beginner / Intermediate
Oxford Take Off in French makes learning or brushing up on your French quick, easy, and fun. Follow an integrated course including activities and dialogues with native speakers so you can feel confident in day-to-day conversation. Advance from beginner to intermediate level in one integrated book and audio course. This complete language-learning kit contains everything you need to speak, read, write, and understand French, and gives you flexibility when learning. The pack includes a clear, easy-to-use coursebook, full mp3 audio to download, 5 CDs, including extra audio to practise on CD or mp3 and a handy 2-in-1 travel dictionary and phrasebook to support you in learning a new language. Flexible and structured course units allow you to work at your own pace and check your progress with regular self-testing exercises. New, market-tested packaging provides a portable and compact complete language-learning course.
Look here other linguistic courses:

My News