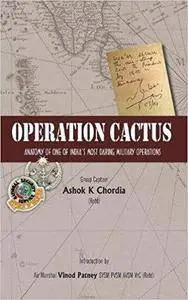 Operation Cactus: Anatomy of One of India's Most Daring Military Operations by Ashok K Chordia
English | 2017 | ISBN: 9386288982 | 294 Pages | PDF | 2.5 MB
A coup attempt in the Maldives in November 1988 sent President Maumoon Abdul Gayoom into hiding. MalÉ flashed desperate SOS messages to several countries seeking military assistance. India was prompt in extending the requisite support. Operation Cactus was launched to rescue President Gayoom and restore his democratically elected government. The decision to launch the airborne operation more than 2,500 km away was deliberate, bold, and sufficiently contemplated by the political and the military leadership of India. The Indian Air Force promptly airlifted the paratroopers of the Indian Army to Hulule Island. The Indian Navy joined in to buttress the effort of the Army and Air Force. Exemplary synergy among the three Services and the diplomatic corps was the hallmark of Operation Cactus.