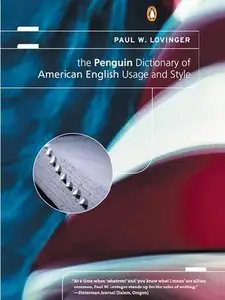 Paul M. Lovinger, "The Penguin Dictionary of American English Usage and Style "
Penguin (Non-Classics) | 2001 | ISBN: 0142000469 | 512 pages | PDF | 1,9 MB
As a practical guide to correct grammar and word choice, The Penguin Dictionary of American English Usage and Style makes an excellent addition to the reference shelf of any high school or college student, and those who write professionally will get plenty of use out of it as well. Words are arranged alphabetically, and thorough cross-referencing makes it fairly easy to track down specific answers, from the plural of "rhinoceros" to when "due to" is an acceptable phrase.
Each entry gives examples of correct and incorrect usage, and usually includes a short explanation of the rule. When the rule is vague or misleading, author Paul Lovinger uses humor and a friendly attitude in explaining the mysteries of American English, and his examples of improper style are likely to make a lasting impression. The food writer who dared to describe a bland eggplant as "sultry" is gently mocked (what is "feverishly passionate" about a vegetable?), and the copy editor who is found "trying to be clever and not succeeding" may think twice before attempting another terrible pun. Large groups, such as "plurals," "verbs," "punctuation," and "numbers," have multiple pages devoted to them, and are broken down into simple groupings that newer students of grammar will have little trouble deciphering. Definitions of individual words are straightforward, and after a little study, you'll have those tricky choices like "nauseous/nauseated" and "farther/further" mastered. If you think you're past these little mistakes, remember that every example of poor usage cited by Lovinger comes from a professional–even experts can use a refresher course sometimes. –Jill Lightner –This text refers to an out of print or unavailable edition of this title.