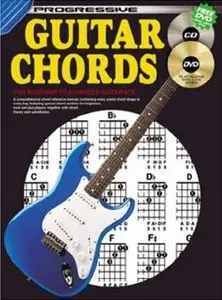 Progressive Guitar Chords: For Beginner To Advanced Guitarists
Koala Publications | English | 1991 | ISBN-10: 0947183094 | 180 pages | PDF/MP3 | 129 MB
Progressive Guitar Chords has been specifically designed for players of three different levels: The Beginner, featuring open chord sections, the simplest and most widely used chord shapes in all keys. The Semi Advanced Player, who will need a thorough knowlwdge of Bar Chords shapes in all positions, particularly useful to Rock guitarists. And last, the Advanced Player, who will refer to the moveable shapes for chords widely used by Jazz guitarists.