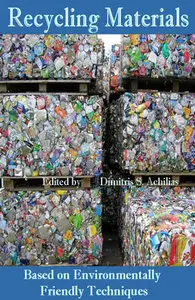 "Recycling Materials Based on Environmentally Friendly Techniques" ed/ by Dimitris S. Achilias
InTAvE | 2015 | ISBN: 9535121421 9789535121428 | 125 pages | PDF | 20 MB
The intention of this book is to present some recent methods for the recycling of several materials, including plastics and wood, as well as to show the importance of composting of polymers. It targets professionals, recycling companies, researchers, academics and graduate students in the fields of waste management and polymer recycling in addition to chemical engineering, mechanical engineering, chemistry and physics.
Reducing the amount of solid wastes in landfills is one of the main targets in nowadays wastes treatment. To this direction, there is a great need in finding of smart recycling techniques which should, as is possible, to be environmentally friendly.
This book comprises 5 chapters covering areas such as, recycling of polystyrene, polyesters, PC, WEEE and wood waste, together with compostable polymers and nanocomposites.
Contents
Preface
1 Recycling of Expanded Polystyrene Using Natural Solvents
2 Hydrothermal Depolymerization of Polyesters and Polycarbonate in the Presence of Ammonia and Amines
3 Chemical and Thermochemical Recycling of Polymers from Waste Electrical and Electronic Equipment
4 Compostable Polymers and Nanocomposites — A Big Chance for Planet Earth
5 Potential for Introduction of Preservative Treated Wood in Wood Waste Recycling Streams and its Prevention
1st true PDF with TOC BookMarkLinks