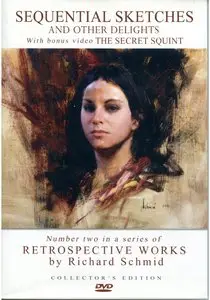 Sequential Sketches and Other Delights
DVD5 | NTSC 4:3 (720x480) VBR | MPEG2 ~4254 kbps | English: AC3, 192 kb/s (2 ch) | 00:51:35 | 1.86 GB
Genre: Drawing, Painting lessons
A must for all who love to watch paintings unfold. Richard offers 70 of his works painted from life, many shown in sequences from beginning to end, while he describes in detail how each was created. Running time - 65 Minutes. With award-winning bonus film: "THE SECRET SQUINT," starring Richard as a young artist who discovers his magical painting powers.
Look other Drawing, Painting videos:
The Joy of Painting Complete Course
Classical Painting: The Realist Sight Size Method with Judith Kudlow
The Artist's Channel (Full collection)
Oil Painting Techniques and Procedures
Painting the Corporate Portrait
The Carder Method for Painting in Oil
The Joy of Painting flowers
Frank Clarke Simply Painting: Using Acrylics - Introduction to Still Life
Ann Pember - Vibrant Orchid. Painting in the flow of watercolor
David A. Leffel - The Art of Painting
Charles Reid - Flower Painting in Watercolor
Learn To Paint - Watercolour Adventures
Painting Large Landscapes
Ellen Soderquist - The Art of Gesture Drawing
Bold & Beautiful: Backyard Wildlife in Watercolor
Painting Wildlife in Acrylic
Watercolor and Gouache Painting - The Techniques of Erik Tiemens
When You Can't Paint Out
Frank Clarke - Simply Painting Across the United States: The Northeast 1
Painting the Sea in Oils
Advanced Portrait Painting
Kasey Sealy - Learn to Paint in Oils Plein Air
Scott L. Christensen - Three Landscape Studies
Charles Reid - Flowers in Watercolor
Pascal Amblard - Fresco Landscape Mural
Plein Air in Oil with Craig Nelson
Barry Watkin - Progressing with Pastel
Johnnie Liliedahl - Sarah
Simply Watercolour by Robert A Wade
Alwyn Crawshaw - A Brush With Art: The Complete Watercolour Course
BV5 venezia
Artistic Anatomy with Rey Bustos
Judy Morris - Tuscan textures
Albert Handell - In the Cedar Grove at Point Lobos
Richard Schmid - White pine
David Palumbo - Painting "Stephie 7"
Landscapes Through Time with David Dunlop
Drawing The Nude From Life
Tonal Drawing - An Introduction
Terry Harrison: Acrylics The Easy Way
Jay Johansen - Dramatic Watercolor Portraits
Beginning to Draw
The Many Styles of Cheng-Khee Chee
Analytical Figure Drawing
Portraits by Scott Burdick
Elizabeth Pruitt - Roses & Jade
Techniques for Figure and Portrait Drawing by Scott Burdick
Painting Metal - Copper and Brass
Jim Wilcox - Painting from the Outside In
Courtship by J. Liliedahl
Narcissus by Johnnie Liliedahl
"The Snack" by J. Liliedahl
Daniel Greene - Oil Portrait
Understanding Color
Color Solutions
Light & Shadow by Johnnie Liliedahl
Alexei Antonov - Claret Grapes
At the Opera by Jeffrey Watts
Bob Ross - Wildlife Painting Techniques
Getting Started with Bob Ross
Wicked Colors - Airbrush Colors for Professionals
5 Pencil Method - How To Draw A Portrait
The Carder Method for Painting in Oil
Frank Clarke - Simply Painting - Using Acrylics, Introduction to Still Life
Drawing from the Model by Jeffrey Watts
John Raynes - Drawing & Painting People
David A. Leffel: Painting the Portrait, Lewis
Azaleas and Oranges by Robert A. Johnson
Welcome to the best eLearning video (English, German, French, Spanish language) and many more:
LINK
Do not forget to check my blog! Updated regularly!
No mirrors pls!