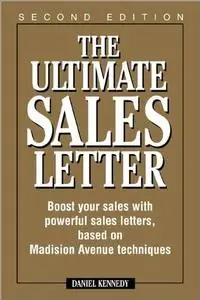 Dan S. Kennedy "The Ultimate Sales Letter: Boost Your Sales With Powerful Sales Letters, Based on Madison Avenue Techniques"
Adams Media Corporation | 2000-10 | ISBN: 1580622577 | 195 pages | PDF | 6,1 Mb
A powerful sales letter is the ultimate marketing tool for all types of business owners, sales reps, and advertising professionals. However, most sales letters end up getting tossed in the junk mail pile. The Ultimate Sales Letter, 3rd Edition shows you how to write letters that get read, generate leads, and make money. Coverage includes:
The twelve best headline formulas Strategies for building a customer base Sales letters for Web sites and online use This guide teaches you a step-by-step system for writing sales letters any business can use–designed by the most successful and highly paid professional direct-response copywriter in the country.Summary: Dan Kennedy is the manRating: 5I've been a fan of Mr. Kennedy for quite a while but have never had the opportunity to purchase anything from him because most of his products were too expensive. But this book is AWESOME! So is the Ultimate Marketing Plan book he has too. I highly recommend this book to anyone doing Website Copy or any other type of Direct Marketing.Summary: Thought it would be more….Rating: 3It was ok but would have liked something more easy to adapt to my letters.Summary: The Ultimate Guide to Sales LettersRating: 5This book is the only start for anyone who is interested in developing sales letters, that sell. There is a reason that Dan Kennedy is the guru of developing sales letters and other forms of copy. In the book, Kennedy unleashes a lot of information in bits of detail which are easy to follow. The book is so well written that you can not help but excel at writing great sales letters by the end. There are many copies of very successful sales letters throughout the book to illustrate the strategies, tactics and techniques revealed. The content flows smoothly from chapter to chapter making this book an effortless read. If you are interested in learning to write great sales letters, get this book first! Eliot Hoppe Author - Selling: Powerful New Strategies for Sales Success Summary: Another powerful, practical book from DanRating: 5Have you ever spent hours writing the perfect sales letter, only to send it out and get little or no response? This information-packed book is sure to show you where you went wrong. And it takes you through all the basic steps and concepts that go into writing amazingly effective sales letters. Of course, there's no substitute for practice, but this book will get you off to a solid start. Known as the "No B.S." guy, Dan Kennedy is a crack copywriter and consultant who regularly helps clients make millions of dollars. From my personal experience (and I have a shelf full of Dan Kennedy's stuff), all his books are worth their weight in gold. But be warned, he has a straight-up, slightly sarcastic style of communication that you either love or hate. Personally, I love it. And I confidently recommend anything and everything Dan Kennedy writes or sells.Summary: Great book with great ideas simplifiedRating: 5This book is as good as a thick textbook on copywriting. Mr. Kennedy doesnt waste words and gets to the point in every sentence in this book. Also of great interest are copies of sales letters he wrote for his clients. What I liked about this book was chapter/step 6: Getting your sales letter read. There are generous examples of attention-getting headlines and fill in the blank headlines. A lot of these caught my attention and I'm very picky about which emails to open because I've looked at thousands of them, but the samples in this book are still good to use. I like this book because it is like AWAI's copywriting course condensed into one book. Read this book today and start writing better copy.
–-No mirrors, please–-