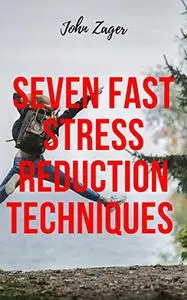 Seven Fast Stress Reduction Techniques: Techniques To Reduce Stress by John Zager
English | 2020 | ISBN: N/A | ASIN: B087783YN5 | 33 pages | PDF | 6.89 Mb
The 7 techniques you have in this short book are very good a start to
change your life
. These methods can free you to get away from the immediate stress and show everyone what you can do with your life.
Use them and you will see how wonderful and fascinating your life can be.
A life without stress.
Living in a state of relaxation and joy.
A life where you can show your best side.
Feel Free to contact me for book requests, informations or feedbacks.
Without You And Your Support We Can't Continue
Thanks For Buying Premium From My Links For Support