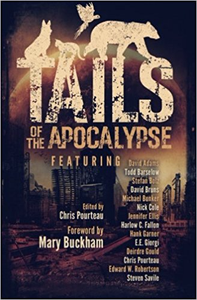 Tails of the Apocalypse - Chris Pourteau
English | 2015 | 406 Pages | ISBN: 0996662812 | EPUB | 536.36 KB
Nobility. Self-Sacrifice. Unconditional Love.
These are the qualities of the heroic animals in this collection.
The Walking Dead meets The Incredible Journey in 14 amazing tales by today's most talented independent authors. Seven stories set in all-new dystopian landscapes. Seven stories set in the bestselling post-apocalyptic worlds of David Adams's Symphony of War, Michael Bunker's Pennsylvania, Nick Cole's Wasteland Saga, Hank Garner's Weston Files, E.E. Giorgi's Mayake Chronicles, Deirdre Gould's After the Cure, and Edward W. Robertson's Breakers.
When the world ends, the humans who survive will learn an old lesson anew—that friendship with animals can make the difference between a lonely death among the debris and a life well lived, with hope for the future.
Download Links