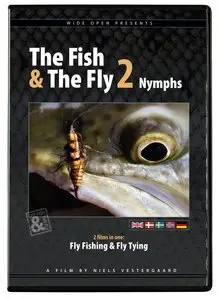 The Fish & The Fly 2 Nymphs
2xDVDRip | AVI/XviD, ~1175 kb/s | 560x320 | Duration: 02:23:38 | English: AC3, 192 kb/s (2 ch) | 1.37 GB
Genre: Fishing
This is a film in the series The Fish & The Fly. In these movies we cover in detail many different challenges the flyfisher faces. We have travelled to amazing rivers and lakes to find the best conditions to demonstrate nymph fishing.
We have joined Morten Oeland as he demonstrates how to handle many different situations. We take a detailed look at the naturals and Morten shows us practical fishing with his best imitations.
As in the previous movie we have placed underwater cameras in the areas as we fish and thereby gained a unique insight into the behavior of the fish.
Morten Oeland is a highly recognised flytier, and in the flytying movie he demonstrates creative and innovative techniques on a high level.
We follow in close detail how he ties 10 effective nymphs that we have seen work. There is a lot of inspiration for your own flytying.
The movie is a journey into the magic world of flyfishing – with great fish and intense sceneries. A combination of excitement, experiences, the joy of flyfishing and facts about fish and flies.
Look other Fishing videos:
The New Fly Fishing Basics
Modern Fly Fishing: Streamer
Joan Wulff's - Dynamics of Fly Casting: From Solid Basics to Advanced Techniques
1st World Feeder Fishing Championships 2011
Fly Tying Made Clear and Simple
Fly Fishing for Mullet
Patagonian silver
Canadian Sportfishing Secret Strategies
Your Instructional Cichlid Aquarium Guide
Korda Underwater 1-8 + Masterclass Vol. 1
Essential Skills with Olver Edwards: Czech Nymphing & Upstream Nymphing
Essential Skills with Olver Edwards - Search and Sight Fishing & The Deer Diving Shri
Essential Skills with Olver Edwards - Fishing Dry Fly & Mayfly Time on a Chalk Stream
Essential Skills with Olver Edwards: Streamer Fishing on Rivers
Art of Spey Casting
Fly Fishing Still Waters Shrimp & Leeches by Brian Chan & Don Freschi
Expert Techniques for Stillwater Fly Fishing with Brian Chan
Tying & Fishing Stillwater Flies with Phil Rowley
Tying & Fishing Stillwater Flies with Brian Chan
The Fish & The Fly 1 Dry Flies
Welcome to the best eLearning video (English, German, French, Spanish language) and many more:
LINK
Do not forget to check my blog! Updated regularly!
No mirrors pls!