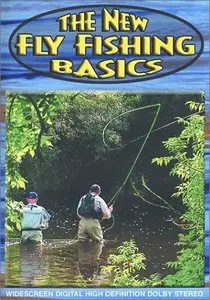 The New Fly Fishing Basics
DVDRip | AVI/XviD, ~874 kb/s | 768x432 | Duration: 01:30:35 | English: AC3, 192 kb/s (2 ch) | 698 MB
Genre: Fishing
"Detailed instruction by ESPN hosts, Jim and Kelly Watt who produce the Fishing Video Magazine TV show. From casting for freshwater trout in small mountain streams to saltwater fly fishing for Sailfish and Marlin, this instructional program is the product of over 50 years experience gained from fly fishing every conceivable location and situation possible. Segments cover the essentials of fly fishing equipment , knots & fly styles. Lessons & examples include basic casting techniques, expert casts for difficult situations & the proper way to fish lakes, streams & rivers. Step-by-step lessons for basic fly tying; Basic Fishing Techniques - Lakes, Streams, Rivers & Entomology; Basic Casting Techniques - Roll Cast, Simple Pick/Set Down, False Casting, Shooting Line Cast; Knots - Nail Knot, Leader to Leader Knot, Double Overhand/Surgeon's Knot, Leader to Fly Knot, Improved Clinch Knot; Equipment - Rods, Reels, Fly Lines, Leaders, Flies, Stuff, Waders, Vest, Tools; Basic Fly Tying - Fly tying tools, vises, hooks, learn to tie a Nymph, Woolley Bugger Streamer & a Basic Dry Fly; Advanced Techniques - Double Haul, Open Loop Cast for Nymphing, Sink Tip Lines, Reach Cast, Slack Line Cast, "S" Cast, Jump Roll Cast, Mending, Downstream Drift, Wind Casts, Roll Cast and Backhand; Choosing the right rod & line; Knots.
Look also:
Modern Fly Fishing: Streamer
1st World Feeder Fishing Championships 2011
Fly Fishing for Mullet
Patagonian silver
Canadian Sportfishing Secret Strategies
Your Instructional Cichlid Aquarium Guide
Korda Underwater 1-8 + Masterclass Vol. 1
Welcome to the best eLearning video (English, German, French, Spanish language) and many more:
LINK
Do not forget to check my blog! Updated regularly!
No mirrors pls!