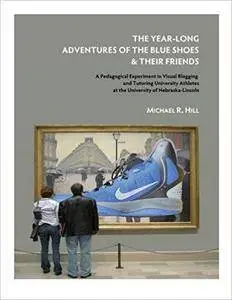 The Year-Long Adventures of the Blue Shoes & Their Friends by Michael Hill
English | 2016 | ISBN: 1609621050 | 100 Pages | PDF | 103.7 MB
For 365 consecutive days, from August 1, 2013 to July 31, 2014, I posted a daily digital image to a "visual blog" that always featured, however tangentially, some aspect of one or more athletic shoes. The project began as a pedagogical ploy, instigated during a Teacher Workshop at the Art Institute of Chicago and utilized in my tutoring of student athletes at the University of Nebraska-Lincoln, but it morphed - for me - into something more: a disciplined personal journey of graphic invention. This book reflects both dimensions of the "Blue Shoes" project: (a) the pedagogical and practical, through inclusion of a formal lesson plan (Appendix I) and an example student essay (Appendix II) and (b) my artistic journey, via 52 color plates chronologically selected from the full set of 365 graphic online posts. The project as a whole is outlined in Georgina Valverde's gracious foreword and my brief introductory essay.