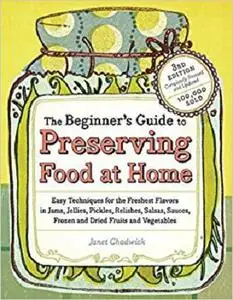 The Beginner's Guide to Preserving Food at Home: Easy Instructions for Canning, Freezing, Drying, Brining, and Root Cellaring Your Favorite Fruits, Herbs and Vegetables by Janet Chadwick
English | May 27, 2009 | ISBN: 1603421459 | 240 pages | EPUB | 4.93 Mb
Freeze, dry, can, root cellar, and brine your favorite produce right at home. Janet Chadwick's introduction to the world of preserving provides step-by-step instructions and inspiring easy-to-follow recipes. Pick up a crate of inexpensive, less-than-perfect tomatoes at the farmers' market and turn them into jars of spicy salsa, or buy a few extra peaches and can a delicious batch of jam to serve with Sunday breakfast. You'll extend the summer harvest and find yourself serving up delicious, locally grown food all year long.
Feel Free to contact me for book requests, informations or feedbacks.
Without You And Your Support We Can't Continue
Thanks For Buying Premium From My Links For Support