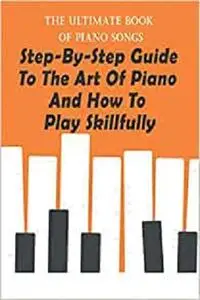 The Ultimate Book Of Piano Songs: Step-By-Step Guide To The Art Of Piano And How To Play Skillfully: Piano Music Books Popular Songs by Kory Firpo
English | April 14, 2021 | ISBN: N/A | ASIN: B092KN9TR8 | 67 pages | EPUB | 8.07 Mb
You want to learn piano, but don't know where to start?
This book can help. You will be given everything you need to know to get going, safe in the knowledge you're doing right through this book.
In this Piano Songs Easy book, you will discover:
- 5+2 Fundamental Music Concepts
- Easy-to-read Theory of Harmony to satisfy also children needs
- 60+ Easy-to-follow lessons to win on every score…
- …and how to play it fluently
- How to Quickly increase your 'Piano Sight Reading'
- The proper hands' position to stop playing like a chicken
- And a lot more…!
This easy-to-follow method, used by thousands of piano students and teachers, is designed to be interactive, engaging, and fun.