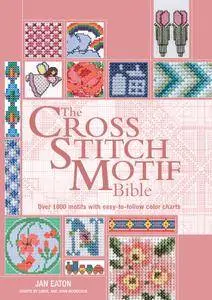 The Cross Stitch Motif Bible: Over 1000 Motifs with Easy to Follow Color Charts (Bible (Chartwell)) by Jan Eaton
English | July 31st, 2011 | ISBN: 0785828656 | 256 pages | EPUB | 59.57 MB
This hardcover book with internal wire-o binding is 6.5in x 8in, a perfect size for readers to keep handy and reference often. The stylish design of this book, along with the interior photographs, illustrations and diagrams, make the learning process simple and fun for beginners and provides useful tips for more advanced readers.
The Cross Stitch Motif Bible is a collection of over 1000 cross stitch motifs, each in the form of an easy to follow chart. This book is an invaluable resource for incorporating your work into cards, samplers, pictures, and tapestries.The fully illustrated step-by-step instructions in basic techniques and materials will allow even the novice to start stitching right away.
With descriptions of techniques like backstitch, french knot, and tips on washing, pressing, and storage of your patterns, this book is an essential for any cross stitcher.