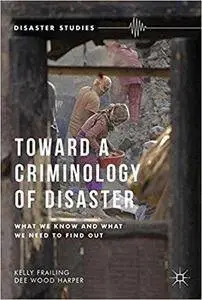 Toward a Criminology of Disaster: What We Know and What We Need to Find Out by Kelly Frailing, Dee Wood Harper
English | 2017 | ISBN: 1137469137 | 224 Pages | PDF | 27.7 MB
This book puts forward a comprehensive criminology of disaster by drawing - and building - upon existing theories which attempt to explain disaster crime. Although antisocial behaviour in disasters has long been viewed as a rarity, the authors present ample evidence that a variety of crime occurs in the wake of disaster. Frailing and Harper's explorations of property crime, interpersonal violence and fraud during disaster reveal the importance of methodological approaches to understanding these phenomena. They highlight the need for the application of social disorganization, routine activity and general strain theories of crime in the development of disaster crime prevention strategies. An accessible and detailed study, this book will have particular appeal for both students and scholars of criminology, sociology, disaster studies and emergency management.