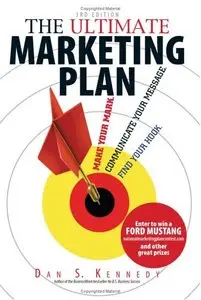 Dan S. Kennedy " The Ultimate Marketing Plan: Find Your Hook. Communicate Your Message. Make Your Mark"
Adams Media | 2006-04-19 | ISBN: 1593374968 | 240 pages | PDF | 10,6 MB
The Ultimate Marketing Plan, 3rd Edition is all you need to find your unique selling proposition and deliver it to the right prospects. You, too, can benefit from the easy step-by-step system that has already helped more than 5 million business owners!
This guide shows you how to put together the most promotable message possible for any product or service including:
Getting free advertising Fueling word-of-mouth Communicating effectively Filled with practical, no-nonsense ideas that will help you position your product, build buzz, and make money, this updated edition also includes expanded coverage on Internet marketing. Summary: Good book….Rating: 4This book is really useful. It is an excellent tool for literally any type of business. The only downside is he is constantly plugging his own website, but I guess you shouldn't expect anything less in a book about promotions. Summary: It's a great book but subject maybe misleadingRating: 5… and it will be misleading for those, who are acutally not interested to build the business, but for those who are interested to create any of those 500 pages fancy looking books called "Mu Great Inc Marketing Plan, now Mr. Investor give me money". If you want create somewhat like this - this book is NOT for you, then choose a Harvard Press or Sunday Times copy/paste academic style writings to be purchased in airport or local bookstores. But if you want: - Unique ideas, how to promote you business in every field you are, sometimes with small and or no money - this is book for you - If you want great examples, advices, and insights with a professional marketing specialist as Mr. Kennedy is - this book is for you. - Examples, strategies, ideas & beyond. One more time - this is NOT a book how to write a marketing plan. Kennedy is right there - if you can not earn money without the money, you probably will not either, if someone will give you investment. This is for those, who wrote 2 star reviews there. Those are ideas coming directly from marketing battlefield, a must have book for any business owner or marketer Summary: Not Ultimate But GoodRating: 4This book should not be used to manage your marketing campaigns but should get you thinking. It will not give you step by step answers to making your business make millions but it will explain your audience and why some methods make the difference. Remember, it's a marketing book and I am sure his intent is to make money in the process so there is advertising of other books and services. If you wrote the book it would be a good idea for you to mention your services too, so don't be so judgmental. Look for ideas and a high level understanding of the nature of selling and marketing and you will find what you are looking for from this book. Summary: Kennedy is amazingRating: 5Fight The Good FightDan Kennedy is amazing. I own his magnetic marketing series. He is the grand daddy of the great marketers. Summary: Now let's do something!Rating: 4I read this book between showers on a UK beach holiday. I found it easy to read, lots of information in an easy to understand lay out. Rather than just telling me how to do things there are many exhibits which show you how and provide lots of ideas to relate to your own business. It has certainly given me food for thought and hopefully this will encourage me to start my own business sooner rather than later.