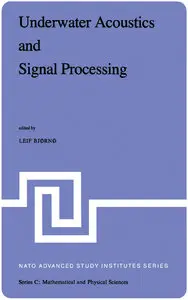 "Underwater Acoustics and Signal Processing" ed. by Leif Bjørnø
NATO Scientific Affairs Division. Advanced study institutes series: Series C, Mathematical and Physical Sciences; vol. 66
Springer / D. Reidel Publishing | 1981 | ISBN: 9400984472 9400984499 9789400984493 9789400984479 | 730 pages | PDF | 24 MB
These Proceedings should form an advanced textbook in the field of underwater Acoustics and Signal Processing. Audience - the students, are scientists who already have specialized in the field or who possess an advanced general background.
This issue followed a tutorial format, forming a high-level teaching activity with the purpose of familiarizing advanced postgraduate students and postdoctoral scientists and engineers with the fundamental theories and up-to-date applications of present knowledge, while most recent research results were presented in a limited number of advanced research papers.
The general line in the topics presented at this NATO ASI has been to give an extensive and thorough account of underwater sound generation, underwater sound propagation, underwater sound reception, including transducers, and the processing of underwater sound signals.
TABLE OF CONTENTS
PREFACE
INAUGURAL ADDRESS
PART I: UNDERWATER SOUND SOURCES AND PROPAGATION
NOISE SOURCES, RADIATION AND MITIGATION
INHOMOGENEITIES AND INSTABILITIES IN UNDERWATER SOUND PROPAGATION
MEDIUM INHOMOGENEITIES AND INSTABILITIES EFFECTS ON SPATIAL AND TEMPORAL PROCESSING
CHEMICAL SOUND ABSORPTION IN THE SEA
ENVIRONMENTAL THRESHOLDS OF AMBIENT NOISE IN THE OCEAN
UNDERWATER EXPLOSIVES: SCALING OF SOURCE SPECTRA
THE REMOTE SENSING OF FACTORS INFLUENCING UNDERWATER ACOUSTICS
SCATTERING FROM INHOMOGENEITIES
DETERMINISTIC PROPAGATION MODELLING I: FUNDAMENTAL PRINCIPLES
DETERMINISTIC PROPAGATION MODELLING II: NUMERICAL RESULTS
STOCHASTIC PROPAGATION MODELLING
A BRIEF HISTORY OF SUBMARINE EXPLORATION OF THE ARCTIC BASIN AND CONTIGUOUS MARGINAL SEA ICE ZONES
A CALCULATION OF COMPLEX WAVENUMBERS OF VIRTUAL MODES IN A PEKERIS MODEL
AMBIENT NOISE GENERATION IN PACK ICE
ACOUSTIC DETECTION, COMMUNICATION, AND SIGNAL PROCESSING REQUIREMENTS FOR THE OPTIONAL DEPLOYMENT OF SSBNs IN THE POSEIDON-X MODE IN SHALLOW OCEAN WATERS
PROPAGATION OF SOUND IN MARINE SEDIMENTS
SIGNAL PROCESSING ASPECTS OF NONLINEAR ACOUSTICS
CALCULATION OF THE ACCURATE DIFFERENCE FREQUENCY FIELD OF A PARAMETRIC CIRCULAR PISTON
PART II: TRANSDUCER TECHNOLOGY
MODERN TRANSDUCERS, THEORY AND PRACTICE
NEW TYPES OF TRANSDUCERS
STATUS OF ULTRASONIC LENS DEVELOPMENT
CONTROL OF RADIATED PRESSURE USING STATE VARIABLE FEEDBACK
PART III: MATHEMATICAL FUNDAMENTALS OF SIGNAL PROCESSING
A REVIEW OF ADAPTIVE ANTENNAS
ADAPTIVE BEAMFORMING WITH EMPHASIS ON NARROWBAND IMPLEMENTATION
RANDOM ACOUSTIC ARRAYS
ARRAY ADAPTIVE NOISE CANCELLATION UNDER SIGNAL LEAKAGE CONDITIONS
MULTI DIMENSIONAL CONSTRAINED LATTICE PROCESSOR FOR ADAPTIVE ARRAYS
GENERAL DETECTION AND ESTIMATION THEORY IN AN ADAPTIVE CONTEXT
DETECTION AND ESTIMATION: A Summary of Results
FAST ALGORITHMS FOR TIME DOMAIN ADAPTIVE ARRAY PROCESSING
TIME DELAY ESTIMATION IN A SENSOR ARRAY
MODELING, ALGORITHMIC AND PERFORMANCE ISSUES IN DEEPWATER RANGING SOUND SYSTEMS
GENERALIZED TIME SPACE APPROACH AND CONVOLUTION ARRAYS
RECENT DEVELOPMENTS IN LEAST SQUARES MODEL FITTING
MODERN EMPIRICAL STATISTICAL SPECTRAL ANALYSIS
PASSIVE SONAR SIGNAL PROCESSING
ADAPTIVE HIGH RESOLUTION SPATIAL DISCRIMINATION OF PASSIVE SOURCES
ON ARRAY PROCESSING IN NCN-STATIONARY RANDOM FIELDS
RESPONSE OF OPTIMAL BEAMFORMER TO BROAD ANGULAR SPECTRA
TWO-DIMENSIONAL DIGITAL FILTERING WITH APPLICATIONS TO IMAGE PROCESSING
TWO-DIMENSIONAL SPECTRAL ESTIMATION BY LINEAR PREDICTION
Design of Two-Dimensional Digital Filters for Electron Microscopy
ON THE DETECTION OF FLUCTUATING SIGNALS
NONPARAMETRIC TESTS FOR COHERENT DETECTION
ESTIMATION OF RADIAL TARGET IENGI'H USING HIGH RESOLUITON SIGNAlS
EIGENVECTOR DIRECTIONS OF SPECTRAL DENSITY MATRIX: APPLICATIONS TO CHARACTERIZATION OF SOURCES AND MODELLING OF PROPAGATING MEDIA
ESTIMATION AND TRACKING OF FREQUENCIES OF SINUSOIDS IN NOISE
DYNAMIC PROGRAMMING FOR PHASE AND FREQUENCY TRACKING
THE UNDERWATER MEDIUM AS A GENERALIZED COMMUNICATION CHANNEL
PHYSICAL AND DESCRIPTIVE APPROACHES TO MEDIUM-INDUCED ACOUSTIC FLUCTUATION
CHARACTERISATION OF SUBMARINE ACOUSTIC TRANSMISSION CHANNELS
PART IV: COMPUTATIONAL BACKGROUND OF SIGNAL PROCESSING
APPLICATION OF MICRO, MINI AHD MAXI PROCESSORS
HIGH-SPEED PROGRAMMABLE DIGITAL SIGNAL PROCESSING SYSTEMS FOR UNDERWATER RESEARCH
ESTIMATES OF THE CHANNEL CAPACITY FOR ACOUSTIC UNDERWATER COMMUNICATION
APPLICATION OF THE COUPLING OF SAW-TO-DIGITAL TECHNOLOGIES TO FAST UNDERWATER SIGNAL PROCESSING
PART V: CONTRIBUTIONS FROM OTHER FIELDS
Signal Processing in Geophysics
Radioastronomy
The Application of Advanced Pattern Recognition Techniques for the Discrimination between Earthquakes and Nuclear Detonations
Tomographic Ocean Surveillance
SUMMARIES OF WORKSHOPS
AMBIENT NOISE
NONLINEAR ACOUSTICS AND APPLICATIONS
SPECTRAL ANALYSIS
PASSIVE LOCALIZATION
PASSIVE RANGING
LIST OF CHAIRMEN
SUBJECT INDEX
1st with TOC BookMarkLinks