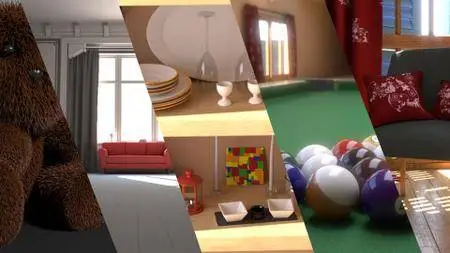 V-Ray 3.0 for 3ds Max Essential Training
MP4 | Video: 720p | Duration: 5:00:30 | English | Subtitles: VTT | 1742.1 MB
Master features of the V-Ray 3.0 rendering engine and learn how to extend the range of 3ds Max with V-Ray's state-of-the-art tools, such as progressive sampling, skin and hair shaders, and stereoscopic 3D rendering. This course covers critical V-Ray concepts such as basic material creation, image sampling, color mapping, subdivs, and lighting, as well as creating in-camera effects such as depth of field, motion blur, and caustics. Author and 3D expert Brian Bradley will help you add amazing and lifelike materials and effects to your 3D models with this powerful plugin.
Topics include:
Using the new UI elements, Quick Settings, and revamped Frame Buffer
Understanding color mapping modes
Adding V-Ray light types
Working with the V-Ray Sun and Sky systems and dome light
Using irradiance mapping and light cache
Working with diffuse color maps
Making reflective materials
Creating a translucency effect
Using the new SSS and skin shaders
Ensuring quality with image sampling
Working with the adaptive subdivision engine
Controlling the physical camera
Working with FX tools such as VRayFur and VRayMetaball
Stereoscopic 3D rendering
Using Render Mask