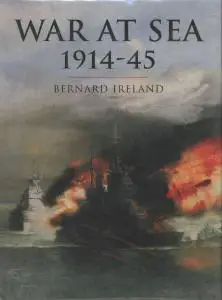 Bernard Ireland - War at Sea 1914-45
Cassell | 2002 | ISBN: 030435340X | English | 225 pages | PDF | 84.32 MB
In 1914 international naval power was measured in dreadnought battleships. They were the index of national power like the Nuclear Club of those 21st century countries armed with atomic weapons. Every nation with pretensions to world power joined the Battleship race, from France and Russia to Argentina and Chile. Most critical of all were the rival building programmes of Britain and Germany, a bitter contest that helped trigger the First World War.
Within a generation, the mighty battleships were rendered redundant. Submarines and aircraft dominated the seas. Amphibious warfare became crucial: both for the liberation of German-occupied Europe and to drive back the Japanese from their island conquests.
Bernard Ireland analyses this extraordinary transition, combining a wide-ranging analysis with vivid narratives of key battles and campaigns.