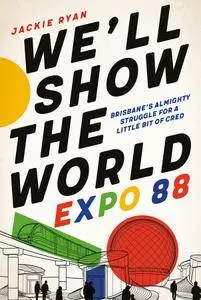 We'll Show the World Expo 88 – Brisbane's Almighty Struggle for a Little Bit of Cred by Jackie Ryan
English | April 26th, 2018 | ASIN: B07BKT4XGJ, ISBN: 0702260894 | 312 Pages | EPUB | 3.45 MB
How did one long and expensive party change a city forever? World Expo 88 was the largest, longest, and loudest of Australia's bicentennial events. A shiny 1980s amalgam of cultural precinct, shopping mall, theme park, travelogue, and rock concert, Expo 88 is commonly credited as the catalyst for Brisbane's 'coming of age'. So how did an elaborate and expensive party change a city forever?
We'll Show the World explores the shifting social and political environment of Expo 88, shaped as much by Queensland's controversial premier Sir Joh Bjelke-Petersen as it was by those who reacted against him. It shows how something initially greeted with outrage, scepticism, and indifference came to mean so much to so many, how a state better known for eliciting insults enchanted much of the nation, and how, to Brisbane, Expo was personal.