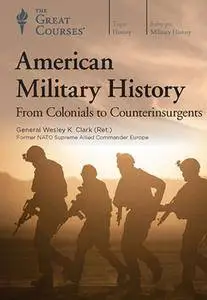 TTC Video - American Military History: From Colonials to Counterinsurgents
Course No. 8706 | .M4V, AVC, 450 kbps, 854x480 | English, AAC, 160 kbps, 2 Ch | 24x28 mins | + PDF Guidebook | 2.7 GB
Lecturer: Wesley K. Clark, Former NATO Supreme Allied Commander Europe
First in his class at West Point, Wesley Clark took enemy fire while leading an Army patrol during the Vietnam War and was evacuated from the battlefield on a stretcher. But his career did not end with a Purple Heart and a Silver Star. It was only the beginning of a lifelong campaign that culminated as Supreme Allied Commander Europe—and a surgical military victory in Kosovo.
A Rhodes Scholar and thinking man's officer, Gen. Clark came to master all the tactics, strategy, and historical lore of the U.S. military, the world's greatest fighting force. In American Military History: From Colonials to Counterinsurgents, he explores the full scope of the nation's armed conflicts, from the French and Indian War in the mid-18th century to the Global War on Terrorism in the 21st, covering more than 200 years of American diplomacy and warfare. These 24 absorbing half-hour lectures chart the remarkable growth of the United States into the most powerful nation on Earth, thanks in large part to its talent for rising to the occasion when called to war.

He retraces the footsteps of some of his most storied predecessors in uniform—men such as Winfield Scott, Ulysses S. Grant, Robert E. Lee, John J. Pershing, George Marshall, Dwight Eisenhower, Creighton Abrams, Norman Schwartzkopf, and others—through tragedy and triumph; on the road to war, and the winding path to peace.

And Gen. Clark culls important lessons—along with his own wisdom—from history-changing conflicts that nations and their leaders have found so easy to start and so difficult to conclude. In just one of many examples, he reveals the importance of learning from experience through the story of one of the nation's founding fathers, George Washington, who nearly lost the Revolutionary War before learning how to win it.

The United States won its independence by defeating the British Empire, settled the issue of slavery by fighting the Civil War, and became a superpower by emerging victorious from World War II. Military campaigns have played a crucial role in defining the United States and its place in the world. America may not have won all its wars, but its military history provides a powerful lesson in the causes that motivate its leaders and citizens. And the study of that history underscores the qualities that it takes to prevail on the battlefield, including experienced officers, trained and disciplined soldiers, equipment, logistics, and, above all, a strategic vision.

Paths to Victory

In American Military History, you study warfare the way it's taught at the United States Military Academy, where Clark was first in his class. Every war, every campaign, every battle is a veritable textbook on possible paths to victory or defeat, among them:

Surprise: The time to strike is when an opposing force is separated, distracted, and disorganized due to crossing an obstacle such as a river. This is exactly what happened to British Gen. Edward Braddock's troops while fording the Monongahela River during the French and Indian War—a lesson not lost on his young aide-de-camp, Lt. Col. George Washington.
Strategy: The Union's rapid conquest of Fort Donelson during the Civil War showed poor strategy by the Confederates, who lacked a coherent picture of the theater of operations, and it demonstrated superb strategic thinking by the Union commander, Ulysses S. Grant. More than any other general at the time, Grant saw the big picture of the war and how to win it—which he did.
Simplicity: "In war, there are two kinds of plans," says Gen. Clark, "those that might work and those that won't work. You want to pick a plan that might work and then make it work." In the Battle of Midway during World War II, the Japanese navy had ambitious, multiple objectives, split its forces, and then was ambushed by the U.S. fleet, suffering a crushing defeat.
Speed: The U.S. armed forces took rapid assault to a new level in the operation to restore order to Panama in 1989–1990, pursuing multiple simultaneous attacks. One aim was to finish the fight before outside pressure could hamper the operation's successful conclusion. Speed and overwhelming force have become hallmarks of U.S. military doctrine.
Clarity: Officers are taught from their earliest training to avoid giving ambiguous orders. In the Spanish-American War, President William McKinley's directive to "reduce Spanish power" and introduce "order and security" in the Philippines, without specifying how, threw a political problem into the laps of the commanders on the scene, with unfortunate results.
Creativity: In the last lecture, Gen. Clark speculates that "no field of human endeavor sparks as much creativity as warfare." This is evident in any protracted conflict, which sees new tactics followed by counter-tactics, novel technologies and weapons followed by countermeasures. The watchword among Clark's fellow officers was, "The enemy has a vote on what works."

War from the Inside

While any survey of American history covers its wars, this course looks at war from the inside, through the eyes of a soldier who has studied it, lived it, taught it. Among the personal experiences that Gen. Clark relates as he guides you through three centuries of conflict are:

Fighting insurgents: In 1969–1970, Clark was an army captain in Vietnam during Gen. Creighton Abrams' implementation of a new strategy to defeat North Vietnamese guerillas. Before he was wounded in action, Capt. Clark saw firsthand the promise of this new approach, which was later abandoned in the politically driven drawdown of American troops.
Words to live by: In 1976, Clark was a White House Fellow having dinner with Israeli Prime Minister and former Gen. Yitzhak Rabin. He asked Rabin the most important advice he had for a young officer. "Persistence is what wins," came the answer, and Rabin related a critical battle he fought where persistence won the day when all seemed lost.
Wars are hard to stop: Once bloodshed starts, wars have a terrible momentum. While negotiating the Bosnia Peace Agreement in 1995, U.S. diplomat Richard Holbrooke insisted, "The most important thing is to stop the killing." Gen. Clark was the military leader working with Holbrooke's diplomacy and later commanded NATO forces charged with curbing ethnic cleansing in the region.

Gen. Clark shows how these lessons resonate with past conflicts: with the insurgency that American troops faced in the Philippines after the Spanish-American War; with Gen. Zachary Taylor's tenacious defense against an overwhelming assault at the Battle of Buena Vista during the Mexican-American War; and with "the shot heard 'round the world," which drew the first blood in the American Revolution. "Forces can maneuver, they can deploy, they can threaten, and feint," says Gen. Clark. "But once the killing starts, passions are aroused, and the stakes expand."

Available in both video and audio formats, American Military History is especially rewarding in its video version, which has extensive historical engravings, photographs, film clips, and maps, including animated diagrams showing the tactical moves during famous battles. The scores of examples include:

Andrew Jackson's defense of New Orleans
Winfield Scott's Mexico City campaign
Ulysses S. Grant's siege of Vicksburg
George S. Patton's counterattack during the Battle of the Bulge
Douglas MacArthur's surprise landing at Inchon
Norman Schwarzkopf's Operation Desert Storm

Hallowed Traditions

Throughout American Military History, you witness large conflicts, small wars of necessity, and wars of choice, actions on America's shores and far away—on land, sea, and in the air. You learn that certain traditions trace to the country's earliest years. Among these are the citizen soldier and the principle of civilian control, established by George Washington. Another is a professional officer corps, trained at military academies open to all on a merit basis. When Wesley Clark arrived at the U.S. Military Academy at West Point in 1962, his entering class received an address by retired Gen. Douglas MacArthur, who extolled the three hallowed words in the academy's motto—Duty, Honor, Country—and reminded the future warriors, "There is no substitute for victory."