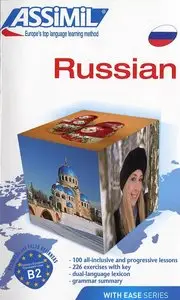 Assimil Russian with Ease book and CDs
French and European Publications Inc | 2012 | ISBN: 2700504445 | English/Russian | PDF+MP3 | 682 pages | 430.89 Mb
This is a fantastic product! Here is a quick run-down of what you get: …
A bi-lingual text featuring 100 dialogues with the Russian translation on one side and the English on the other. The audio is ENTIRELY in Russian, which is a lot better for learning than other courses where half the content is English directions being spoken.

The system is simple and has a two-wave approach. In the passive wave, you simply listen to the audio for a given lesson, and compare the translations. The idea is to get comfortable with the sounds and familiarize yourself generally with the Russian vocabulary. Each lesson has a pronunciation guide (though the audio should be enough) along with short notes on grammar and culture. Every 7th lesson is a review day. You get a solid grammar treatment of all of the grammar you have been using the past week. It is sort of nifty because you have already seen a bunch of examples of what it is explaining. So it is very self-reinforcing.

After 7 weeks, the passive wave continues, and the active wave begins! At this point, you still do one lesson a day passively as listed above. However, you also flip back and start reviewing one lesson a day. Reviewing involves translating the previous lessons between languages.

It will amaze you how much you have learned in the 7 weeks. By that time, what was initially a completely foreign language will seem familiar as all of the important vocabulary will have been repeated quite a bit in the intervening lessons.

Russian is a complex language, but this course will help you get a strong foothold in it. Another great thing to do is called shadowing, where you repeat the audio in-time with the native speakers on the CD.