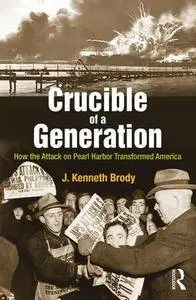 Crucible of a Generation :
How the Attack on Pearl Harbor Transformed America
by J. Kenneth Brody
English | 2018 | ISBN: 1412865573 | 295 Pages | PDF | 5.84 MB
Crucible of a Generation tells the story of the fifteen days surrounding the Japanese attack on Pearl Harbor through the pages of eight leading American newspapers. Focusing on publications such as The New York Times and the Chicago Tribune, J. Kenneth Brody paints a vivid picture of U.S. political culture and society at a pivotal moment in the nation's history. Brody considers the papers in full, from headlines to 'help wanted' ads, in a text richly illustrated with archival images, wartime posters, and editorial cartoons. The book provides a compelling snapshot of the United States and the role of the media at a time of dramatic tension and global change.
"[A] fascinating chronicle of America's transformation over "fifteen fateful days," from a country fiercely divided between isolationists and interventionists to one united in pursuit of unconditional victory… The impact of Pearl Harbor on the American psyche was breathtaking and immediate, and it changed the character of the American nation from that of an observer of the world scene to its central actor. Mr. Brody's sense of history and eye for detail make rewarding reading."—James L. Buckley, former US Senator, past president of Radio Free Europe, and former judge for the US Court of Appeals for the District of Columbia