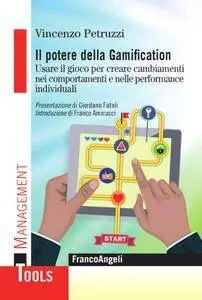 Vincenzo Petruzzi - Il potere della gamification. Usare il gioco per creare cambiamenti nei comportamenti e nelle performance individuali (2015)
Italiano | 2015 | ISBN: 8891712949 | 112 Pagine | AZW3/EPUB/PDF | 7 MB
Che cosa è la Gamification? A cosa serve? E come si applica? Questo manuale analizza le radici e l'evoluzione del fenomeno, i trend di mercato e le previsioni di sviluppo, proponendo una raccolta di modelli e casi di studio utile sia a game designer sia a responsabili della formazione e comunicazione in organizzazioni che si trovino a progettare o implementare strategie di Gamification. L'analisi si concentra su come l'implementazione di meccaniche ludiche può produrre cambiamenti significativi sui comportamenti e sulle performance individuali. Evidenze neuroscientifiche chiariscono, infatti, che la pratica del gioco interessa direttamente alcuni istinti umani primari, come il bisogno di autoespressione o la volontà di porsi nuove sfide, consentendo di creare coinvolgimento, motivazione e fedeltà. Eppure, lo stigma culturale che da sempre accompagna il fenomeno ludico nel tempo ne ha limitato fortemente la diffusione, relegando il gioco a pratica di nicchia o intrattenimento infantile. La nostra epoca, con la disponibilità di reti a banda larga, la diffusione capillare di dispositivi mobili e il largo impiego dei social network, crea un panorama del tutto inedito. Oggi il pianeta spende collettivamente più di tre miliardi di ore alla settimana nel gioco: una "alfabetizzazione videoludica di massa" che ha reso possibile lo sviluppo e la diffusione sempre più rapida della Gamification.
Per scaricare Altri LIBRI in ITALIANO CLICCA QUI
>>> Visit My Blog Here <<<
If you like this release please support Developer / Publisher and BUY it.
If you'll find that my links are dead please let me know through the Private Messages.
Please DO NOT MIRROR