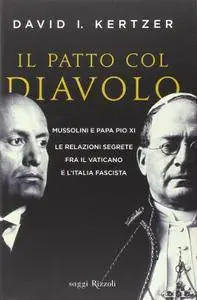 David I. Kertzer - Il patto col diavolo: Mussolini e Papa Pio XI le relazioni segrete fra il Vaticano e l'Italia fascista (2014)
Italian | Rizzoli | 2014 | PDF | Pages 555 | ASIN: B00IUGH266 | 5.8 MB
I rapporti tra il Vaticano e il fascismo sono da sempre oggetto di controversia. Da una parte quanti sostengono che la Chiesa sia stata una ferma oppositrice del Duce, dall'altra quanti ritengono che invece lo abbia appoggiato in materia determinante. Dopo l'apertura, nel 2006, degli Archivi vaticani, nuovi documenti permettono di approfondire il dipanarsi delle relazioni tra Pio XI e Benito Mussolini, due uomini arrivati insieme al potere, nel 1922, e i cui destini resteranno legati a doppio filo. Spie, traditori, carte segrete e scandali taciuti rivelano una storia di opportunismi, di interessi talvolta convergenti – a partire dalla comune e ferrea lotta contro il comunismo – ma anche di riluttanze, insofferenze e duelli all'arma bianca. Mussolini aveva bisogno del Papa per far dimenticare il proprio passato anticlericale e guadagnare il consenso in un Paese cattolico, il Papa, per parte sua, intendeva restaurare i privilegi perduti del clero e cullava il sogno di uno Stato confessionale. Ma con il progressivo stringersi dell'alleanza tra Mussolini e Hitler, le perplessità di Pio XI si faranno sempre più serie e la sua disponibilità verso il regime vacillerà ogni giorno di più. La visita trionfale del Führer a Roma e le successive esternazioni del Duce sulla superiorità e la purezza della razza italiana lo fecero inorridire. Allora decise di scrivere un discorso, per denunciare l'intollerabile abbraccio del razzismo nazista: avrebbe dovuto tenerlo a tutti i vescovi d'Italia l'11 febbraio 1939, ma il giorno prima morirà e tutte le copie di quel discorso saranno fatte scomparire.
Per scaricare Altri LIBRI in ITALIANO CLICCA QUI
>>> Visit My Blog Here <<<
If you like this release please support Developer / Publisher and BUY it.
If you'll find that my links are dead please let me know through the Private Messages.
Please DO NOT MIRROR