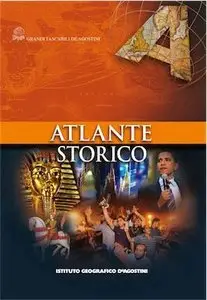 Atlante Storico - Istituto Geografico De Agostini (2011)
Publisher: De Agostini Libri | 2011 | PDF | 212 pages | 103 MB
Language: Italian | ISBN-13: 9788851116996
Un'opera che segue il cammino dell'uomo dagli albori della civiltà fino ai giorni nostri, grazie all'impiego di testi accurati, numerose illustrazioni, oltre a quadri cronologici utili a visioni sintetiche. Oltre 200 carte tematiche permettono di focalizzare gli avvenimenti nei loro contesti politici, economici e sociali. L'Atlante è suddiviso in diverse sezioni, dalla preistoria al XXI secolo, è aggiornato con gli ultimi fatti salienti di attualità, dal nuovo corso americano ai fronti caldi dell'Asia Centrale fino ai temi globali relativi alla crisi economica internazionale.
Clicca QUI per altri Libri
If you'll find that my links are dead please let me know through the Private Messages.
Please DO NOT MIRROR

>>> Visit My Blog Here <<<