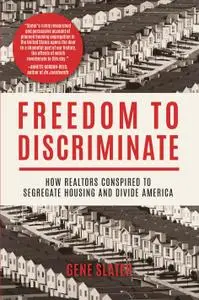 Freedom to Discriminate: How Realtors Conspired to Segregate Housing and Divide America by Gene Slater
English | September 21st, 2021 | ISBN: 1597145432 | 456 pages | True EPUB | 10.73 MB
A landmark history told with supreme narrative skill, Free to Discriminate uncovers realtors' definitive role in segregating America and shaping modern conservative thought. Gene Slater follows this story from inside the realtor profession, drawing on many industry documents that have remained unexamined until now. His book traces the increasingly aggressive ways realtors justified their practices, how they successfully weaponized the word "freedom" for their cause, and how conservative politicians have drawn directly from realtors' rhetoric for the past several decades. Much of this story takes place in California, and Slater demonstrates why one of the very first all-white neighborhoods was in Berkeley, and why the state was the perfect place for Ronald Reagan's political ascension.