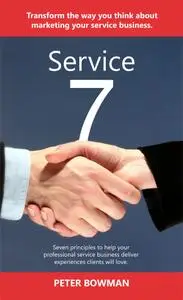 Service 7: Transform the way you think about marketing your service business. Seven principles to help your professional service business deliver experiences clients will love. by Peter Bowman
English | December 9th, 2019 | ISBN: 0987355910 | 96 pages | EPUB | 4.47 MB
Get ready to transform the way you think about marketing your professional service business with Service 7. Product marketing principles continue to fail when they are applied to service businesses. Service marketing challenges require service marketing solutions. Service 7 is an essential read for every professional advisor, consultant and professional services manager who cares about their clients and their business. Working in a professional service business is challenging. You work closely with clients and they expect you to deliver them the results they are looking for.