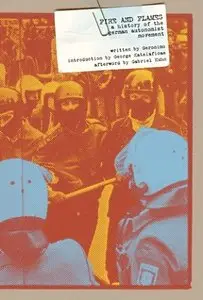 Geronimo, "Fire and Flames: A History of the German Autonomist Movement"
Publisher: PM Press | 2012 | ISBN: 1604860979 | English | PDF | 196 pages | 5.76 Mb
Translated for the first time into English, the history of the German autonomous anticapitalist movement is traced back to the 1970s in this firsthand account. Battling police in riot gear, the early members of the autonomous movement used military tactics that included barricading and hurling Molotov cocktails in protest. Dubbed the "Black Bloc" by the German media, those tactics were soon adopted by scores of anticapitalist groups across the globe. The dawn of the autonomous faction spawned a movement in which average citizens can reclaim their lives from governmental control. Political activists and anticapitalists will find updated historical context to the movement and the current state of the German autonomous movement in this updated chronicle.
"Some years ago, an experienced autonomous activist from Berlin sat down, talked to friends and comrades about the development of the scene, and, with Fire and Flames, wrote the best book about the movement that we have." —Düsseldorfer Stadtzeitung für Politik und Kultur

"I highly recommend that all radicals acquire this book and study it." —w w w.vancouver.MediaCoop.ca

"Before 'the cancer of Occupy,' there were Germany's Autonomen; a new translation of Fire and Flames, a history of the struggle, shines a light on this proto-Black Bloc." —w w w.TheNewInquiry.com

"From the squats to protests against nuclear power; from struggles against prison terror to rallies against abortion laws and more. This quick catalog of the West German street movements of 1968-1989 suffers from only one thing: its brevity." —Ron Jacobs, CounterPunch
Geronimo is the pen name of an activist for the German autonomous movement.
George Katsiaficas is a visiting professor of sociology at Chonnam National University and a Fullbright Fellow. He is the author of 'The Imagination of the New Left' and 'The Subversion of Politics'.
Gabriel Kuhn is a translator and the author of 'Life Under the Jolly Roger'.