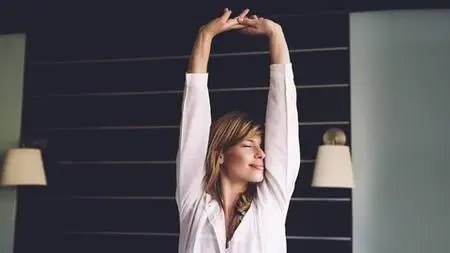 Sleep and insomnia: Improving health with CBT and meditation
.MP4 | Video: 1280x720, 30 fps(r) | Audio: AAC, 48000 Hz, 2ch | 780 MB
Duration: 1.5 hours | Genre: eLearning Video | Language: English
Improve your sleep with education, meditation, CBT, learn about medication, and much more in this course!
What you'll learn
Students will understand the importance of getting proper sleep to their overall health, mood and daily performance.
Students will have the tools to deal with problems getting to sleep, or problems with the quality of their sleep.
Students will be able to make more informed decisions about medication, and other drugs used to improve sleep.
Students who follow the course recommendations will see improvements in their general mood, overall health and wellbeing, as well as daily performance.
Requirements
There are no prerequisites for this course, anyone can, and should take it.
Description
This is a course about the importance of a good night's sleep for your health, happiness and productivity. We live in a world that operates 24 hours a day, 7 days a week and we are so productivity driven, that it sometimes comes at the cost of our health. In addition, we are constantly connected to the world through technology like smart phones, computers, and other wearables. Both of these amazing features of today's world can have negative and potentially dangerous impact on our sleep, both quantity and quality.
People don't realize just how important sleep is to our health. A good healthy diet, frequent exercise as well as proper sleep cycles are three pillars of our health though for some reason health oriented people often focus only on the first two, in an attempt to be more productive and utilize more hours of the day. In fact, poor sleep can make us much LESS productive in our waking hours, in addition to the other health risks that come about.
This course is built with 3 main parts:
To help people understand the importance of a good quality sleeping schedule to our health, and overall wellbeing.
To give valuable tools and life hacks, which have been proven to work better than medication to help overcome sleeping problems and other forms of insomnia.
Discuss the effects, as well as side effects of various medication and drugs that are used to overcome sleep problems.
Tools that are discussed and taught in this course include:
Sleep hygiene
Meditation
Cognitive behavioral therapy (CBT)
Learning about medication, as well as supplements
This course will cover all the important information for those who are health conscious, and want to have a better overall wellbeing. We will also address myths and superstitions around sleep, and make sure that the facts are understood, along with presenting the evidence behind the facts.
Who this course is for:
Anyone who is concerned with their overall health and wellbeing.
Anyone who has, or has had problems sleeping.
Anyone who wants to improve their overall health, mood, and general feeling.