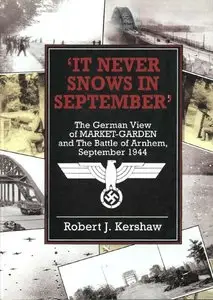 Robert J. Kershaw - It Never Snows In September: The German View Of Market-Garden And The Battle of Arnhem September 1944
Ian Allan Publishing | 2004 | ISBN: 0711030626 | English | 373 Pages | PDF | 15.61 MB
On the afternoon of 17 September 1944, Lieutenant Enthammer, a Wehrmacht artillery officer based in Arnhem, gazed up at the clear skies, hardly believing what he saw. White 'snowflakes' appeared to hang in the air. 'That cannot be,' he thought. "It never snows in September! They must be parachutists!' They were. He was witnessing the first wave of the British parachute assault on Arnhem. The war had reached the Reich. The blow moreover had come as a complete surprise. The Allies had expected Operation Market Garden to bring the collapse of the Wehrmacht in the West and shorten the war. But the Germans resolved to fight. Based on extensive research it Never Snows in September uniquely chronicles that struggle through the eyes of the German soldier and analyses the reasons for the eventual outcome. This major work of military history is now reprinted in paperback in response to continuing popular demand.