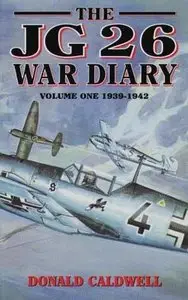 Donald Caldwell - The JG 26 War Diary Volume One: 1939-1942
Grub Street | 1996 | ISBN: 1898697523 | English | 356 pages | PDF | 66.94 MB
Jagdgeschwader 26 was one of only two German units to remain on the Western front for the entire war. Its rise and fall mirrors the history of the German Air Force. This book gives a chronology of the unit's activities, using documentary sources, JG 26 archives and veteran's own stories. Volume one covers the period from 1939 to 1942 and contains interviews with the veterans of the JG26 unit, Allied records, radio intelligence, national archives of Germany, the UK and USAF Historical Research Agency and post-war research, to provide a daily account of the unit's activities - as only two of the 30 volumes of the unit's official diary survived the war.