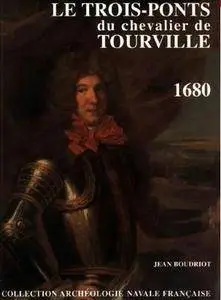 Jean Boudriot - Le trois-ponts du chevalier de Tourville 1680 (The Chevalier de Tourville's Three-Decker Ship 1680)
Ancre | 2000 | ISBN: 2903178275 | French | 634 pages | PDF | 377.08 MB
Ce nouvel ouvrage qui vous est proposé comporte deux volumes, l'un de textes et illustrations relié, l'autre renferme les nombreuses planches dans un emboitage souple, formule identique à celle suivie pour une précédente publication (le Navire marchand Ancien Régime).
Premier volume: débute par la présentation des recherches menées sur ordre de Colbert et son fils, au cours d'une vingtaine d'années, afin de fonder une théorie de la conception des vaisseaux. Dans le cadre de cette ambitieuse entreprise s'inscrit, sous le titre "le Rendez-vous de Rochefort", la tentative en 1679-1680 du chevalier de Tourville de faire adopter par Colbert ses idées sur la construction navale. Ces pages doivent donner une dimension historique au Vaisseau proposé par le chevalier, sujet premier de la publication.
II a paru opportun d'inclure à la suite de ces pages la reproduction commentée de tous les documents graphiques du XVIIème siècle conservés au Musée de la Marine à Paris et de citer divers manuscrits, très utile apport à la connaissance de notre architecture navale de la période Louis XIV.
Après ces "Mélanges" représentant environ la moitié du volume, et sa première partie, la seconde est uniquement consacrée à la monographie du Vaisseau trois-ponts de M. de Tourville.
Les sources sont examinées avec le document de base, pièce exceptionnelle datée de 1680, véritable plan dressé sur les idées de Tourville par un énigmatique personnage Blaise Pangalo. Une notice fournit diverses informations sur ce constructeur d'origine napolitaine qui dès les années 1680, s'imposera comme un de nos meilleurs maîtres d'oeuvre.
Les planches de la monographie sont reproduites à l'échelle du 1/144ème et chacune fait l'objet d'un commentaire explicatif. A la suite de ces planches, les règles du gréement illustrées de schémas. La description du vaisseau s'effectue en respectant l'ordre déjà suivi pour les précédentes monographies: définitions du volume de l'ensemble de la coque, tracé de toutes les pièces de la charpente, description des installations intérieures et de l'accastillage, mâture et sa garniture, gréement et voilure. Cette nouvelle publication toujours dans le cadre de notre Collection, présente la double originalité de décrire un Vaisseau trois-ponts, et que ce grand bâtiment témoigne de la marine de Louis XIV, ceci mérite d'être souligné.
Second volume: constitué par les 36 planches au 1/48ème nécessaires à la description détaillée du Vaisseau, volumineux ensemble en raison du grand format des planches, imposé par l'échelle du l/48ème et les dimensions du Vaisseau. Ces planches sont réunies sous une couverture souple. Rappelons que les textes explicatifs de ces planches figurent dans le premier volume où elles sont reproduites à l'échelle du 1/144ème, cette formule facilite l'étude des planches en évitant leur manutention.
Grâce au talent de Bernard Frolich, un modèle de ce trois-ponts dénommé l 'Ambitieux est en cours de réalisation.
This new work is presented in two volumes: the first contains texts and illustrations, the second stores numerous plates within a soft cover. This presentation is identical to that of an earlier publication (Le Navire marchand Ancien Régime).
Volume One: The study begins by presenting the research ordered by Colbert and his son, carried out over a period of nearly twenty years, in order to establish a conceptual theory of ships. In the context of this ambitious undertaking, we find the Chevalier de Tourville's attempt in 1679-80 to persuade Colbert to adopt his ideas on ship building. The pages of this text, "Le rendez-vous de Rochefort", appropriately frame the vessel proposed by the Chevalier historically, and it is this dimension that is the main topic of the study. In the following pages we take the opportunity to include an annotated reproduction of all printed documents from the XVIIth century preserved in the Musée de la Marine in Paris. We also cite various manuscripts which are a useful source of knowledge of French naval architecture during the reign of Louis XIV. After these "Mélanges" which comprise nearly the first half of the volume, we turn our attention to the monograph of M. de Tourville's three-decker ship. Sources are analyzed together with the basic document, a rare text from 1680, which is an authentic plan based on de Tourville's ideas drawn up by a mysterious character called Blaise Pangalo. A notice furnishes some information on this builder of Neapolitan origin who excels, from the 1680's on, as one of our foremost master builders. The plates of the monograph are reproduced at 1:44 scale. Each one is accompanied by explanatory comments. Schematically illustrated rigging rules follow the plates. We present the description of the ship in the same fashion and order as in the preceding monographs: measurements of the volume of the entire hull, drawings of all pieces of the timbers, description of interior installations and the fitting out of the hull, masting and its rigging, the rigging itself, and the sails. We affirm that this new publication in our collection is unique insofar as it not only present a three-decker ship, but more importantly, one that bears excellent witness to Louis XIV's Navy.
Volume Two: Comprised of 36 plates at 1:48 scale required for a detailed description of the vessel, it is a sizable set due to the large format of the plates at 1:48 scale and the dimensions of the shipbound in a soft cover. N.B. the explanations of the plates are found in the first volume; they are reproduced at 1:44 scale, a size that expedites the study of the plates without excessive handling. Thanks to the talent and skill of Bernard Frölich, a model of this three-decker called l'Ambitieux is being built.