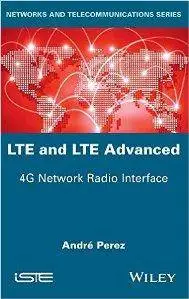 LTE & LTE Advanced : 4G Network Radio Interface
by Andre Perez
English | 2015 | ISBN: 1848218443 | 317 Pages | ePUB/mobi | 31 MB
This book presents the technical characteristics of the two radio network interfaces of mobile 4G, LTE and LTE Advanced, based on Release 8, 9 and 10 of the 3GPP specifications.
Points covered include a detailed description of various components of the radio interface. RRC signaling messages used to establish the connection, enabling the security, the paging, the establishment and the release of dedicated and default support and the handover. The PDCP ensures the security of the transmission and allows the recovery during handover and the compression of the headers. The RLC protocol defines the transmission modes with or without acknowledgment. The MAC protocol determines the random access, the data transfer, the timing advance, the scheduling and the discontinuous reception. The physical layer includes a description of the methods of multiplexing (time, frequency and space) and the various signals and physical channels.