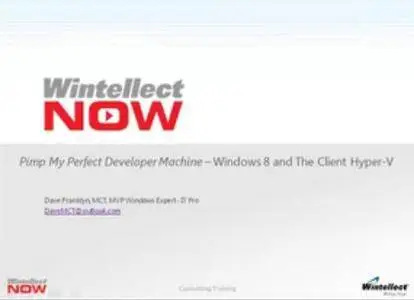 Pimp My Perfect Developer Machine – Windows 8 and the Client Hyper-V
MP4 | Video: AVC 1280x720 | Audio: AAC 44KHz 2ch | Duration: 1 Hour | 223 MB
Genre: eLearning | Language: English
Windows 8 now comes with a hypervisor! Why should you care? As a developer, you may need to vigorously test your code, but getting to a test bed of connected computers might be an issue. Perhaps you need to check authentication code against a domain controller, or view a web site from different client operating systems. By using Hyper-V on Windows 8 you have the ability to create, on your high performance client laptop, a complete developer's dream: Operating systems–including servers, infrastructure and applications; all completely changeable and isolated or accessible. You can also boot to VHD and quickly show off your skills or test them. This is a tool you can't ignore if you want an incredibly fast and efficient laboratory to test your creations. Join Microsoft MVP Dave Franklyn, Windows Expert-IT Pro, as he shows you how to set up the perfect client Hyper-V environment and cover tips and tricks to make it rock–a pimped out developer's dream machine!