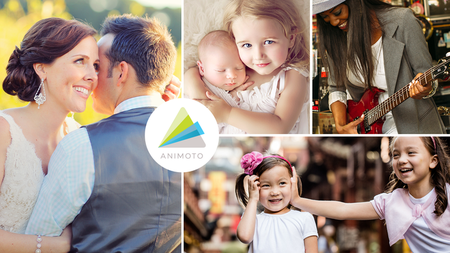 Using Animoto Slideshow Videos to Grow Your Photography Business
MP4 | Video: AVC 1280x720 | Audio: AAC 44KHz 2ch | Duration: 2 Hours 40M | 1.62 GB
Genre: eLearning | Language: English
For anyone scrolling through Facebook or Twitter, it's hard to ignore that video is everywhere. Photographers trying to market their photos are taking advantage of this trend by making slideshow videos of their work - with no prior editing experience. Animoto Professional makes it easy to combine photos with video clips, text, and licensed music to create seamless HD slideshow videos.
Animoto brings together the talent and knowledge of Vanessa Joy, Roy Ashen, Jared Platt and Kelly Brown. They'll share their methods for making an emotional impact on their clients, standing out on social media and increasing their sales using Animoto. In this class:
Vanessa Joy will use slideshows as a powerful sales tool for wedding and portrait sales. She will go through the 3 steps that will get you started using Animoto.
Roy Ashen, Founder of Triple Scoop Music, knows how to compliment story with sound. He'll help you choose the right music, and evoke an emotional experience for your clients.
Kelly Brown will drive home the importance of creating videos to educate and entice your customer. She'll speak to the power of sharing slideshow videos on social media, and how it has helped her business.
Jared Platt will show you how easy it is to use Animoto. He'll also reveal a few hidden gems that will make your Animoto workflow even smoother.
Photographers today are looking for effective marketing and sales solutions, with minimal input of time and money. Video is one of the most powerful ways to get yourself noticed and Animoto slideshows are increasingly becoming the way to reach people. With Animoto, you can upload your slideshow videos to social media platforms like Facebook, Youtube and Instagram. You can use it in the sales room to evoke an emotional connection with your customers. You can also download the HD-quality MP4 file, and deliver this to your client as an upsell incentive or a thank you gift.