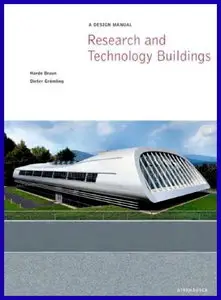 Hardo Braun and Dieter Grömling "Research and Technology Buildings: A Design Manual"
Published by Birkhäuser Basel | April 2005 | ISBN : 3764321741 | PDF Format, 235 pages | English | 2 RAR Files 37.9 MB each
The significance of research and technology in today's economies is undisputed and continues to grow. Designing buildings to accommodate a range of functions, from laboratory experiments through prototype development to presentation and marketing is an architectural field of great potential. Commissioned by universities, public institutes and private companies, the challenge is to reconcile security and accessibility, laboratories equipped with sensitive, state-of-the-art instruments and facilities for theoretical research.
Zoning, circulation and functional requirements, as well as the historical development and contemporary context of research building, are covered in the opening systematic chapters of this Design Manual. Following this some 70 built projects, largely from Europe, the USA and Asia, are analysed according to a variety of aspects such as urban integration and communications infrastructure.
The authors, both from the internationally renowned Max Planck Society, and contributors draw on their own substantial practical expe rience of planning and building research facilities.