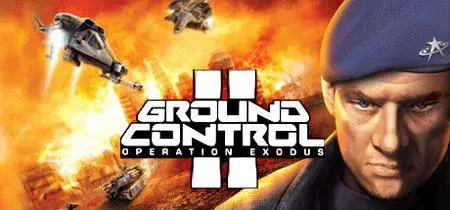 Ground Control 2: Operation Exodus Special Edition (2004)
PC Game/Mac | Developer: Massive Entertainment / Rebellion | 7.1 GB
Languages: Deutsch, English, français
Rating: PEGI Rating: 12+ (with Violence)
Version GOG: 2.0.0.10/2.1.0.12/1.0.0.8
Genre: Strategy - Real-time - Sci-fi
The year is now 2741 and you find yourself at the centre of a war between the Northern Star Alliance and the vicious Terran Empire. Having lost the war in space, the NSA retreats to their home world and forces the Terran Empire to engage in a savage war of attrition on the ground. At your disposal are huge combat dropships, battle-hardened infantry, armoured vehicles, powerful tanks and an assortment of air units. Well-balanced strategic and tactical control is imperative to mission success.
A new and fascinating story with great plot twists
Top-quality graphics that look great even by today's standards
A futuristic, sci-fi atmosphere blended with real-time 3D warfare
MINIMUM System Requirements
Windows: XP / Vista / 7 / 8
Processor: 1.8 GHz
Memory: 512MB RAM (1 GB recommended)
Graphics: 3D graphics card compatible with DirectX 9.0c
Hard drive space: 4GB
Mouse, Keyboard

Mac: OS X 10.6.8 or later.
Processor: Intel Core 2 Duo 2GHz+
Memory: 1GB of RAM
Graphics: 64MB of video memory
Recommended two-button mouse, or Apple mouse with Secondary Button / Secondary Click enabled.