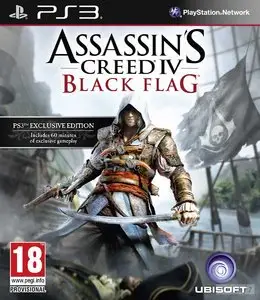 Assassins Creed IV Black Flag (2013)
PS3 Game | Publisher: Ubisoft | Developer: Ubisoft Montreal | CFW 4.46 | 10 GB
Languages: English, Italian, German, French, Spanish
Genre: Action, Adventure | Release Date: 29 October, 2013
It is 1715. Pirates rule the Caribbean and have established a lawless pirate republic. Among these outlaws is a fearsome young captain named Edward Kenway. His exploits earn the respect of pirate legends like Blackbeard, but draw him into an ancient war that may destroy everything the pirates have built.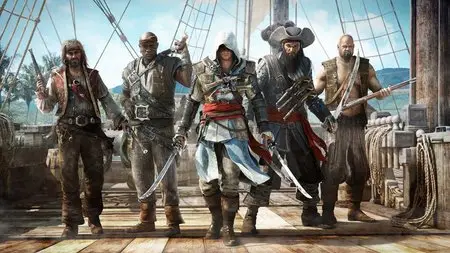 Set sail on the high seas in Assassin's Creed IV: Black Flag, a pirate-filled adventure in the Assassin's Creed saga. Become Edward Kenway, a charismatic yet brutal pirate captain, trained by Assassins. Command your ship, the Jackdaw, and strike fear in all who see her. Plunder and pillage to upgrade the Jackdaw with ammunition and equipment needed to fight off enemy ships as you venture out to discover the most diverse Assassin's Creed world ever created.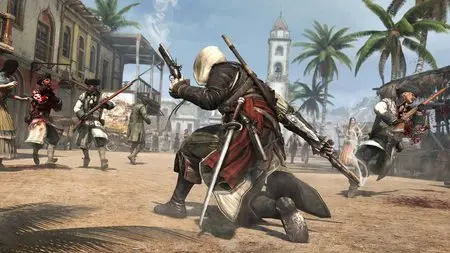 Features:
• A BRASH REBEL ASSASSIN – Edward can effortlessly switch between the Hidden Blade of the Assassin's Order and all new weaponry including four flintock pistols and dual cutlass swords.
• BECOME THE MOST FEARED PIRATE IN THE CARIBBEAN – Improvements to your ship, The Jackdraw, are critical to Edward' s progression through the game. Attack and seamlessly board massive galleons, recruit sailors to join your crew and embark on an epic and infamous adventure.
• EXPERIENCE THE GRITTY REALITY BEHIND THE PIRATE FANTASY – Stand amongst legendary names such as Blackbeard and Benjamin Hornigold, as you establish a lawless Republic in the Bahamas and relive the truly explosive events that defined the Golden Age of Pirates.
• MULTIPLAYER EXPERIENCE – Play with your friends in the ruthless and critically acclaimed multiplayer experience. Choose from an eclectic cast of characters from the Golden Age of Pirates and fight to the death in exotic locations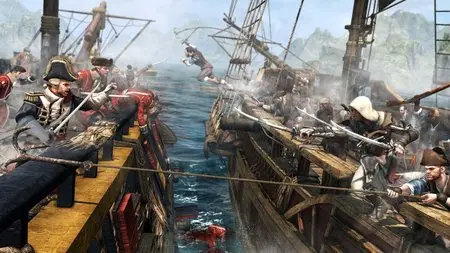 Game Trailer
:
Click HERE for view Video
Assassins_Creed_IV_Black_Flag-PS3-RiOT

If you like this game please support Developer / Publisher and BUY it.

Recovery Volumes (.rev)

Recovery volumes or .rev files are special files which can be created by WinRAR/RAR and allow you to reconstruct missing and damaged files in a volume set. They can
only be used with multi-volume archives.

This feature may be useful for backups or, for example, when you post a multivolume archive to a newsgroup and some of the subscribers did not receive some files. Reposting recovery volumes instead of usual volumes may reduce the total number of files to repost.

Each recovery volume is able to reconstruct one missing RAR volume. For example, if you have 30 volumes and 3 recovery volumes, you are able to reconstruct any 3 missing volumes. If the number of .rev files is less than a number of missing volumes, reconstructing is impossible. The total number of usual and recovery volumes must not exceed 255 and the number of recovery volumes must be less than the number of RAR volumes.

WinRAR reconstructs missing and damaged volumes either when clicking on .rev file, or when using rc command or automatically, if it cannot locate the next volume and finds the required number of .rev files when unpacking.

You may use the "Recovery volumes" option in the Archive name and parameters dialog or a similar option also appears in the Protect archive command to create recovery volumes. In the command line mode you may do it with -rv switch or rv command.

Original copies of damaged volumes are renamed to *.bad before reconstruction. For example, volname.part03.rar will be renamed to volname.part03.rar.bad.

From Win-rar.com
Click Here for others Multilanguage GAMES
Please DO NOT MIRROR

>>> Visit My Blog Here <<<

Subscribe to My Newsletter!
If you'll find that my links are dead please let me know through the Private Messages.