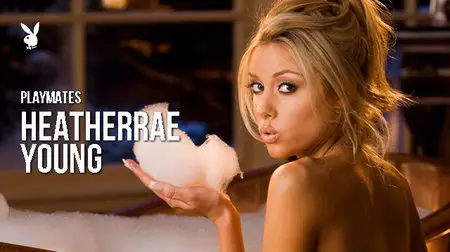 Heather Rae Young - Playmate of the Month for February 2010
26+2 jpg | up to 3960*8640 | 26.3 Mb
Heather Rae Young
is the
Playboy Playmate
for February 2010. Growing up in Running Springs, California, a tiny mountain community overlooking the San Bernardino National Forest, Heather Rae Young spent an idyllic childhood "learning good small-town values and a strong work ethic from my parents," as she puts it. She took dance lessons, skied, built snowmen and hiked with her dogs. There was just one problem: Heather always dreamed of becoming a model, and to make that happen she had to come down off her mountaintop.
"One day I went online and found out about the 55th Anniversary Casting Call at the Playboy Mansion in 2008,"
she says.
"I freaked because I think it's every girl's dream to go to the Mansion and see what it's like. So I did!"
Smart move, Heather. She landed a callback, shot a couple of times for Playboy, and voilà, her career took flight.
"It happened so fast that I'm stunned,"
admits the quickly rising bikini-and-lingerie model (whom keen Playboy aficionados will also recognize from last September's feature
Lounge Acts
). She's beginning to call her own shots. Nothing can top the thrill of showing off her skills for a full-on Centerfold, however, especially as Miss February — our valentine Playmate.
"I'm so thrilled to be representing the love month because I have tons of love in my life,"
says the 22-year-old, a gorgeous smile blossoming across her face.
"I loved Playboy when I was growing up in those mountains, and now look at me: I'm Miss February! Unbelievable."
Heather Rae Young Bio
Name: Heather Rae Young
Birthplace: Anaheim, CA
Bust: 32″ C
Waist: 23
Hips: 33
Height: 5′ 7″
Weight: 102 lbs
Ambitions: To keep modeling, open an animal rescue and have a family one day.
Turn-Ons: A man I feel a real connection with who is honest, ambitious and compassionate.
Turnoffs: A man who thinks he's God's gift — cocky is not hot! Bad hygiene is a no-no!!
My Go-To Feel-Good Recipe: Exercise! Running on the beach, bike riding and kickboxing.
My Four-Legged Valentines: My white and fluffy Pomeranian, Sebastian, my snugly mutt, Baxter, and my tomcat, Mr. Tommy Boy.
Tv Addictions: Curb Your Enthusiasm, Entourage, Sons of Anarchy and United States of Tara.
Words To Live By: Never, never, never, never give up.